Scoping Review

Open Access
Epidemiology and interactions of Human Immunodeficiency Virus – 1 and Schistosoma mansoni in sub-Saharan Africa
Infectious Diseases of Poverty
2013
2:2
Received: 13 November 2012
Accepted: 17 January 2013
Published: 24 January 2013
Abstract
Human Immunodeficiency Virus-1/AIDS and Schistosoma mansoni are widespread in sub-Saharan Africa and co-infection occurs commonly. Since the early 1990s, it has been suggested that the two infections may interact and potentiate the effects of each other within co-infected human hosts. Indeed, S. mansoni infection has been suggested to be a risk factor for HIV transmission and progression in Africa. If so, it would follow that mass deworming could have beneficial effects on HIV-1 transmission dynamics. The epidemiology of HIV in African countries is changing, shifting from urban to rural areas where the prevalence of Schistosoma mansoni is high and public health services are deficient. On the other side, the consequent pathogenesis of HIV-1/S. mansoni co-infection remains unknown. Here we give an account of the epidemiology of HIV-1 and S. mansoni, discuss co-infection and possible biological causal relationships between the two infections, and the potential impact of praziquantel treatment on HIV-1 viral loads, CD4+ counts and CD4+/CD8+ ratio. Our review of the available literature indicates that there is evidence to support the hypothesis that S. mansoni infections can influence the replication of the HIV-1, cell-to-cell transmission, as well as increase HIV progression as measured by reduced CD4+ T lymphocytes counts. If so, then deworming of HIV positive individuals living in endemic areas may impact on HIV-1 viral loads and CD4+ T lymphocyte counts.
Keywords
Schistosoma mansoni HIV-1Co-infectionsImmunological interactionsDeworming
Multilingual abstracts
Please see Additional file 1 for translations of the abstract into the six official working languages of the United Nations.
Review
Introduction
Worldwide, HIV-1 infections remain a major public health problem. In 2010, over 31 million adult individuals (>15 years) were living with the disease and new cases of the disease were estimated to be at 2.7 million individuals [1]. The sub-Saharan African region continues to carry the largest proportion of the global disease burden [1]. In 2010, over 68% of global cases of HIV were in sub-Saharan Africa [1]. In this region, an estimated 1.9 million individuals were newly infected with HIV during 2010, comprising about 70% of all new cases of the disease worldwide [1]. However, in the East African region, the HIV epidemic has started to decline and has stabilized in some areas [2]. The national prevalence of HIV varies among countries in the region, from 3% in Rwanda, 5.8% in Tanzania, 6% in Kenya to 6-7% in Uganda [2, 3]. The risk factors for HIV transmission in sub-Saharan Africa vary dramatically across sub-populations with different demographic characteristics [4, 5]. The key risk factors for heterosexual transmission of HIV in Africa are commercial sex (prostitution), high population mobility, concurrent or multiple partners or number of lifetime sexual partners, residential location (rural versus urban), history of active or passive sexually-transmitted disease and lack of male circumcision [4, 5]. Several epidemiological studies have reported vulnerable groups such as female bar workers [6], female commercial sex workers, long-distance truck drivers and their partners [7]. Fishing communities remain at higher risk of acquiring and transmitting HIV, and play a key role in the spread of HIV and in the maintenance of the HIV infection levels in the population [8, 9].
Schistosomiasis is a chronic, water-borne helminth disease, endemic in Africa for many centuries [10–12]. The current global estimate indicates that 779 million people in 76 countries are at risk for schistosomiasis and that 207 millions are infected [13]. Approximately 120 million people have schistosomiasis-related symptoms and 20 million suffer from the chronic form of the disease [14]. In Africa, urogenital schistosomiasis, caused by infection with Schistosoma haematobium, and intestinal schistosomiasis caused by S. intercalatum and S. mansoni, are highly endemic [13]. However, S. haematobium and S. mansoni are the most widely distributed causing the greatest burden of mortality. A recent meta-analysis of existing data suggests that up to 280,000 deaths annually are related to schistosomiasis (both urogenital and intestinal) in sub-Saharan Africa [15, 16]. The disability-adjusted life years (DALYs) lost due to schistosomiasis are estimated at 4.5 million [16]. However, not all authors agree with this estimate, some arguing that it is an underestimation of the real impact of schistosomiasis [15, 17]. There is a real risk that, despite effort to control schistosomiasis, the global prevalence of schistosomiasis may still increase due to the effects of increasing numbers of agricultural irrigation schemes, constructions of dams and man-made lakes for hydroelectric power generation, as well as civil wars, which contribute to increased human population movements [13, 18].
In established endemic areas, S. mansoni affects individuals of all age groups, but the prevalence and infection intensity is usually seen to peak among children under 15 years of age [19, 20]. This age-pattern of infection intensity has been reported to develop within 2 years amongst immigrants newly exposed to infection on migration into S. mansoni endemic areas [21]. Although age-specific behavioral patterns, with high water contact and exposure to infection, often favour greater childhood infection intensities, the slow development of a partial immunity in endemic area residents may contribute to the lower infection intensities observed in adults [22, 23]. However, high occupational exposure, associated with fishing for example, can result in maintenance of high intensities of infection into adulthood [24].
Human Immunodeficiency Virus-1 and
S. mansoni
infections are co-endemic in Sub-Saharan Africa and co-infection occurs in highly endemic areas (Figure
1
) [
25
,
26
]. In the early 1990s, it was hypothesized that helminth infections in sub-Saharan Africa were associated with a high transmission of HIV [
25
,
26
] and a faster progression of HIV to AIDS [
27
–
42
]. In HIV co-infected individuals, helminth infections may cause general immune activation and affect the pattern of cytokine secretions [
25
–
42
]. Further effects observed in HIV-1 – helminth co-infected individuals included the modulation of the immune response against helminths [
28
,
29
,
43
], an impaired schistosome egg excretion [
27
,
31
] and increased HIV-1 viral loads after chemotherapeutic deworming [
32
–
42
]. The immunological effects and morbidities associated with helminth infections observed in HIV-1 positives individuals vary with the species of helminth involved. Some effects are common to all helminths, others are specific to particular helminth species such as schistosomes. Of the schistosomes that infect man in sub-Saharan Africa,
S. haematobium,
causing urogenital schistosomiasis, presents a distinct and potentially important specific risk factor for the acquisition of HIV-1/AIDS via urogenital tract lesions, and this has been reviewed elsewhere [
44
–
46
]. In contrast,
S. mansoni
, which is the focus of this review, rarely causes genital lesions but may still act as a risk factor for HIV-1 transmission and progression of the disease through within-host interactions with HIV-1. Thus, here we review the evidence for biological causal effects of HIV-1/AIDS and
S. mansoni
in human hosts. Specifically, we focus on immunological interactions (bi-directional effects in causing morbidities), the efficacy of anti-schistosome chemotherapy, and its effect on HIV-1 related parameters (such as HIV-1 viral loads and CD4
+
lymphocytes) in HIV-1-
S. mansoni
co-infected individuals.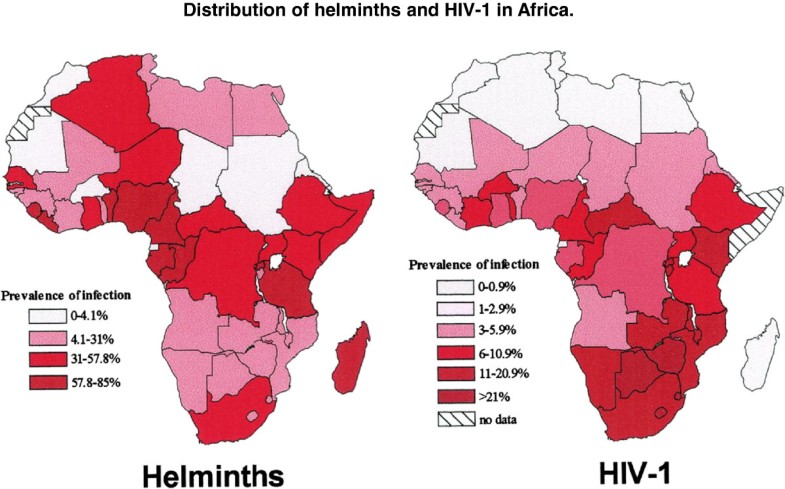 Methodology
Data for this review were collected by searches in NCBI PubMed, EMBASE, Global Health and from the references of published manuscripts, relevant articles and doctoral theses. For computerized databases, the search strategy included only permutations of key terms, which were relevant to the study. Initially, all searches began with the text string "schistosom*" and specified keywords in permutations related to co-infection, including "HIV", "HIV/AIDS", "Viral loads", "co-infection", "deworming", "treatment", "intestinal schistosomiasis", "Schistosoma mansoni", "Schistosoma haematobium", "urinary schistosomiasis", "soil-transmitted helminths" and "filarial". In addition, we reviewed the past and current available publications on WHO, UNAIDS and UNICEF websites, which were relevant to our review.
Characteristics of the immune response to helminth infections
Most of the human parasitic nematodes and trematodes that occur in sub-Saharan Africa have complex multi-stage lifecycles involving one or two host species and a complex immune modulation response in their hosts [46–50]. The available evidence indicates that the immune responses of various hosts (both natural infections and experimental models) to helminth infection are similar, being commonly characterized by type 2 T-helper lymphocytes with production of significant quantities of interleukin-4, IL-5, IL-9, IL-10 and IL-13 [46–50]. The increased level of Th2 interleukins are accompanied by an increased production of immunoglobulin E (IgE), eosinophils and mast cells responses [47, 48]. In early helminth infections, the infectious larval stages induce the production of either Th1 or Th2 cytokines response from T-lymphocytes and other immune cells [49]. In S. mansoni infections, the cercaria infective stage stimulates Th1 immune responses during the early phase of the infection in mouse models. In chronic human and experimental infections, Schistosoma mansoni, like all helminth infections, induces a predominantly Th2 immune response, characterized by interleukin-4, IL-5, IL-9, IL-10 and IL-13, antibody (IgE and IgG4), eosinophils and mast cells. However, these responses are tightly regulated to produce a modified Th2 immune environment. The down-regulatory mechanisms involved not only down-regulate Th2, but also the Th1 mediated responses that have been observed, in both mice [47, 48] and humans [49, 50] when exposed to heavy, primary, schistosome infections.
Immunological interactions of Human Immunodeficiency-1 and Schistosoma mansoni
Conclusion
In Sub-Saharan Africa, HIV-1 and S. mansoni infections are co-endemic and co-infection occurs in highly endemic areas. There is evidence to support the occurrence of interactions between the two infections in a single co-infected human host. Furthermore, published data supports the hypothesis that helminth infections can influence important parameters of HIV infection such as CD4+ lymphocyte counts and HIV viral loads. Thus, in areas of co-endemicity, it is important to integrate control programmes for HIV-1 and schistosomiasis to give an opportunity for early identification of co-infected individuals and provide an opportunity for early deworming to reduce the fast progression and transmission of HIV-1.
Lastly, the available evidence on the interactions of HIV-1 and S. mansoni and the impact of praziquantel treatment on CD4+ lymphocytes and HIV-1 viral loads remains inconclusive and does call for further field studies to resolve discrepancies. Large randomized controlled trials with longer follow-up periods are required in order to assess the interactions between S. mansoni and HIV-1 and the impact of deworming cycles on the HIV-1 progression in populations constantly exposed to S. mansoni infection and at high risk of HIV infection.
Authors' Affiliations
(1)
Department of Medical Parasitology and Entomology, School of Medicine, Catholic University of Health and Allied Sciences, Mwanza, Tanzania
(2)
Department of Environmental Health and Communicable Disease Control, School of Public Health, College of Health Sciences, Makerere University, Kampala, Uganda
(3)
National Institute for Medical Research, Mwanza Research Centre, Mwanza, Tanzania
(4)
Department of Pathology, University of Cambridge, Cambridge, UK
(5)
Department of Zoology, Faculty of Science, Jomo Kenyatta University of Agriculture and Technology, Nairobi, Kenya
(6)
Department of Community Health, School of Medicine, Federal University of Ceará, Ceará, Brazil
Copyright
© Mazigo et al. 2013
This article is published under license to BioMed Central Ltd. This is an Open Access article distributed under the terms of the Creative Commons Attribution License (http://creativecommons.org/licenses/by/2.0), which permits unrestricted use, distribution, and reproduction in any medium, provided the original work is properly cited.