Scoping Review

Open Access
Moving from control to elimination of schistosomiasis in sub-Saharan Africa: time to change and adapt strategies
Infectious Diseases of Poverty
2017
6:42
Received: 27 November 2016
Accepted: 8 February 2017
Published: 20 February 2017
Abstract
Schistosomiasis is a water borne parasitic disease of global importance and with ongoing control the disease endemic landscape is changing. In sub-Saharan Africa, for example, the landscape is becoming ever more heterogeneous as there are several species of Schistosoma that respond in different ways to ongoing preventive chemotherapy and the inter-sectoral interventions currently applied. The major focus of preventive chemotherapy is delivery of praziquantel by mass drug administration to those shown to be, or presumed to be, at-risk of infection and disease. In some countries, regional progress may be uneven but in certain locations there are very real prospects to transition from control into interruption of transmission, and ultimately elimination. To manage this transition requires reconsideration of some of the currently deployed diagnostic tools used in surveillance and downward realignment of existing prevalence thresholds to trigger mass treatment. A key challenge will be maintaining and if possible, expanding the current donation of praziquantel to currently overlooked groups, then judging when appropriate to move from mass drug administration to selective treatment. In so doing, this will ensure the health system is adapted, primed and shown to be cost-effective to respond to these changing disease dynamics as we move forward to 2020 targets and beyond.
Keywords
SchistosomiasisControlEliminationMappingDiagnosticsPreventive chemotherapyMass drug administrationSub-Saharan Africa
Multilingual abstracts
Please see Additional file 1 for translations of the abstract into the six official working languages of the United States.
Introduction
Schistosomiasis is a waterborne infection and is one of the most common parasitic diseases in the world, and is of public health global importance [1]. This disease has major health and socio-economic repercussions, and constitutes an important public health problem in developing countries as well as a significant hazard for visitors and travellers who visit disease endemic regions. Human schistosomiasis is caused by six species of schistosomes, i.e. Schistosoma haematobium, S. mansoni, S. japonicum, S. mekongi, S. intercalatum and S. guineensis; and is endemic in 78 countries [1, 2]. Of these six species, S. haematobium is responsible for urogenital schistosomiasis and has significant interactions with HIV and also HPV [3], whilst other species each cause intestinal or rectal schistosomiasis. It is estimated that 779 million people are at risk of infection, and about 250 million people are currently infected [2, 4]. The Global Burden of Disease study of 2010 attributed some 3.31 million disability-adjusted life years (DALYs) and 11 700 death per year to schistosomiasis, a mortality figure which has been challenged as a gross underestimate [5].
Schistosomiasis affects the poorest of the poor and infections are particularly abundant among people living in rural or deprived urban or peri-urban settings [6]. These populations typically have low socio-economic status with limited access to clean water and with inadequate sanitation provision [7, 8]. The morbidity caused by schistosomes is commonly associated with moderate-to-heavy egg-infection intensities and is progressive; as compared with any other age group, school-aged children and pre-school children are the most vulnerable groups to developing overt disease [9, 10]. These groups typically harbour the largest numbers of adult worms, with copious tissue entrapped eggs causing systematic and organ-specific inflammation, concomitantly when the consequences of this infection causes greatest physiological and developmental insult [2]. Studies have demonstrated that children can acquire schistosome infections within the first few months of life [11, 12], causing early life initial organ damage and altered development, mediated by fibrotic lesions around tissue-trapped eggs, manifesting overtly in adolescence and early adulthood [9, 13].
Successful schistosomiasis control programmes in Japan, China, Philippines, Brazil, Egypt and in some sub-Saharan African countries have shown that control of schistosomiasis with progression towards elimination of disease is feasible [14]. The recent impetus for schistosomiasis control has generated a greater political commitment, as well as an unprecedented opportunity for cost-effective action [15, 16]. This momentum has encouraged many countries to establish national action plans and programmes to control neglected tropical diseases (NTDs) [7, 17, 18].
Within the past decade, significant progress has been made on large scale treatments through integrated control of schistosomiasis and other NTDs, thanks to a number of international organizations, donor foundations, bilateral institutions and non-governmental organizations that responded to the WHO's 2001 call for action [19]. Today, treatment with praziquantel [20] is cost-effective and 'preventive chemotherapy' is currently the strategy of choice and endorsed by WHO [9, 21]. With a support from the USAID and the UK Department for International Development (DFID), as well as the Bill and Melinda Gates Foundation, the pharmaceutical industry, and several not-for profit organizations, millions of children are regularly treated for schistosomiasis and other NTDs simultaneously, through coordinated use of anthelminthic drugs [22, 23].
In the past, a key bottleneck to implementation of preventive chemotherapy for control of schistosomiasis in sub-Saharan Africa was the limited access to praziquantel, either purchased or donated [24]. From 2002, with the expansion of activities of the Schistosomiasis Control Initiative, it was clear that the future need for large-scale quantities of praziquantel would grow [18]. In 2007, Merck KGaA pledged to donate 200 million tablets of praziquantel over 10 years through WHO. However, in 2012, Merck-KGaA committed to increase its donation to 250 million tablets of praziquantel per year until schistosomiasis is eliminated. To bolster this donation, additional amounts of praziquantel and resources for implementation were provided by other partners. Whilst there is now growing access to praziquantel for schistosomiasis control in sub-Saharan Africa, it is not at the level of projected requirements to reach all people at risk and requiring treatment [25]. Analysis of data reported on treatment coverage for schistosomiasis show that utilization of available praziquantel by NTD programmes is not yet optimal in many countries [22, 23]. Furthermore, special attention is needed to develop new access plans and reporting frameworks to vulnerable demographic groups in high-risk areas, particularly pre-school-aged children who are currently overlooked [10, 26].
However, the control of schistosomiasis is a long-term undertaking which involves several challenges. Current strategies were designed primarily for the control of morbidity due to schistosomiasis and were formulated over two decades ago when the availability of praziquantel was limited [27, 28]. The new impetus towards schistosomiasis elimination requires some modification, adaptation and even change of strategies [14, 29, 30], which concomitantly raises new challenges and points for consideration [31, 32]. This paper highlights the progress made and reviews the main challenges and requirements to move from control to elimination of schistosomiasis in sub-Saharan Africa.
Schistosomiasis and the global health agenda
In 1975, the World Health Assembly (WHA) adopted the WHA 28.53 resolution calling for the preparation of guidelines and increased efforts in drug development, water projects and partner mobilization for schistosomiasis control [27]. The following year, in 1976, the WHA29.58 resolution urged endemic countries to consider the epidemiological aspects of schistosomiasis when planning and implementing water management schemes, and to undertake specific measures to prevent the spread of the disease into new areas and neighboring countries [33]. However, despite the existence of tools in the 1970s and 1980s, control of schistosomiasis was only sustained for a prolonged period in a few countries and almost no progress was made in sub-Saharan African countries, the most endemic part of the world. In the 1990s, interest in the control of schistosomiasis in Africa waned, and disease control was overshadowed by other health priorities [34] through an era of health sector reform and World Bank driven Structural Adjustment Programmes.
Recent years have witnessed an increased interest in the control/elimination of NTDs, and today the control of schistosomiasis has again become a priority on the agenda of many governments, donors, pharmaceutical companies and international agencies. This has been catalysed by several other WHA resolutions. In 2001, all member states of WHO endorsed the WHA54.19 resolution on schistosomiasis and STH, with the major objective of the regular treatment of at least 75% of all school-aged children at risk of morbidity by 2010 [28]. This resolution generated a greater political commitment and encouraged many countries to establish national action plans and programmes for schistosomiasis and STH control. Ten years later, in January 2012, WHO published an NTD Roadmap that set targets for the period 2012–2020, and described the strategic approach to accelerate work to overcome the global impact of NTDs. This roadmap identified preventive chemotherapy as a key strategy for tackling NTDs which responded to mass chemotherapy [21, 35]. At the same time (January 2012), partners and stakeholders (pharmaceutical companies, donors, endemic countries, Non-Governmental Organizations) endorsed the London declaration on NTDs, and committed to support the WHO roadmap and its 2020 targets for 10 NTDs. In response, the pharmaceutical sector committed to donate all required drugs for as long as necessary [36].
Still in 2012, WHO member states endorsed the WHA65.21 resolution on elimination of schistosomiasis, that called on all endemic countries to intensify control interventions and strengthen surveillance. Importantly, this resolution urged countries to embark on schistosomiasis elimination where possible [35]. This change of policy was a bold and important step towards the elimination of schistosomiasis. Finally, in 2013, the WHA66.12 resolution on NTDs urged countries to ensure continued country ownership of programmes for NTD prevention, control, elimination and eradication; to further strengthen disease surveillance system; to expand and implement appropriate interventions against NTDs; to advocate for funding; to strengthen capacity for NTD prevention, control, monitoring and evaluation; to devise plans for achieving and maintaining universal access to and coverage with interventions against NTDs, including provision of safe drinking-water, basic sanitation, health promotion and education [1].
Clean water provision, sanitation and hygiene (WASH) are critical components in the prevention and care for all NTDs scheduled for intensified control or elimination by 2020. For schistosomiasis, improved sanitation across the entire community to prevent contaminated faeces and urine from reaching surface water can reduce or eliminate transmission, by stopping worm eggs in faeces and urine from entering water–the snail habitat. Provision of safe water, sanitation and hygiene is one of the five key interventions within the global NTD roadmap. This requires a strong intersectoral collaboration. WASH providers must prioritize reduction of inequalities to align with the Sustainable Development Goals' agenda, as developed in the recent WASH strategy to accelerate and sustain progress on NTDs [37].
The WHO NTD roadmap set three time-bound goals for the control or elimination of schistosomiasis. First, 2015 for the elimination of schistosomiasis in the Eastern Mediterranean Region, the Caribbean, Indonesia and the Mekong River basin. Second, 2020 for schistosomiasis elimination in the Americas and Western Pacific Regions; and potential elimination as a "public health problem" in multiple countries in Africa. Although schistosomiasis was not yet scheduled for elimination in sub-Saharan Africa by 2020, the roadmap envisaged potential elimination in selected countries or parts of countries where conditions were appropriate, such as Zanzibar (United Republic of Tanzania) where a concerted effort was on-going (SCORE project and China-Africa initiative). Finally, the roadmap set a potential global elimination of schistosomiasis as a "public health problem" by 2025 [1, 31, 36].
Progress in the control of schistosomiasis in SSA
A key aspect within the WHO Roadmap was making the burden of schistosomiasis much more explicit which then allowed calculation and forecasting of future praziquantel requirements for each country. There has been substantial progress towards WHO Roadmap goals for schistosomiasis and regional targets, as the control of schistosomiasis has become a priority on the agenda of many governments. This momentum has encouraged many countries to establish national action plans and programmes to control NTDs [7, 17, 38]. By 2016, 36 African countries had developed and launched their national NTD master plans. With a support from USAID and UK Department of International Development (DFID) governments, as well as the Bill and Melinda Gates Foundation, the pharmaceutical industry, and many not-for profit organizations, the mapping of NTDs has been completed and millions of children are regularly treated for schistosomiasis and other NTDs.
Mapping the schistosomiasis distribution
Although the African region bears a disproportionately high burden of schistosomiasis, the mapping of disease prevalence remained incomplete in many countries. In January 2014, the WHO Regional Office for Africa (AFRO) launched a mapping initiative targeting to the completion of the mapping of the five NTDs amenable to preventive chemotherapy (lymphatic filariasis, onchocerciasis, schistosomiasis, STH and trachoma) in all countries of the African region. Funded by the Bill and Melinda Gates Foundation, this project enabled the acceleration of the completion of Preventive Chemotherapy amenable NTD mapping in the WHO African region.
Through a coordinated NTD mapping framework, strong WHO AFRO support, the deployment of a pool of well-trained NTD expert and mapping specialists, and a strong commitment by governments, significant progress has been made in the mapping of PC NTDs in the African region within the past 3 years. By June 2016, mapping of PC NTDs, including schistosomiasis, was completed in 41 countries of the 47 countries of the WHO African region, and there remained only six countries where mapping was still ongoing: Algeria, Angola, Central Africa Republic, Ethiopia, South Africa, and South Sudan [39]. This achievement was a critical step to enable the commencement of interventions towards the 2020/2025 schistosomiasis control and elimination targets.
Treatment
Considerable progress is being made in scaling-up preventive chemotherapy interventions in sub-Saharan Africa. With a support from USAID, DFID, BMGF, the pharmaceutical industry and many not for profit organizations, millions of children are regularly treated for schistosomiasis and other NTDs. Within the past 10 years, the number of people treated for schistosomiasis in the WHO African region has significantly increased from about 7 million in 2006 to more than 52 million in 2014, corresponding to a scaling up of coverage from 5.47% in 2006 to 20.13% in 2014 [23].
In the more recent report on schistosomiasis treatment worldwide, WHO estimated that the total number of people requiring treatment for schistosomiasis in 2015 was 218 700 000 (vs 258 875 452 in 2014), of whom 92.04% lived in the African Region. Reports on the annual progress on preventive chemotherapy interventions received in WHO by 20 September 2016 revealed that 27 African countries (vs 23 in 2014) had reported their treatment data for 2015 by then. From this interim report, the number of people treated in the Region was 57 400 000 in 2015 compared to 52 413 796 in 2014 and 26 489 501 in 2013. The number of school-age children that received treatment for schistosomiasis in 2015 was 46 600 000 (vs 43 725 454 in 2014), representing 81.2% of the total number of people treated in the African region [
22
,
23
,
40
]. Figure
1
illustrates the steady progress in schistosomiasis treatment in Africa since 2006. The increase of the number of treatments could be explained by several factors: the increased supply of praziquantel essentially from the Merck KGaA donation, new countries starting to implement preventive chemotherapy for schistosomiasis, geographical scale up of the treatment within countries and an improvement in the reporting.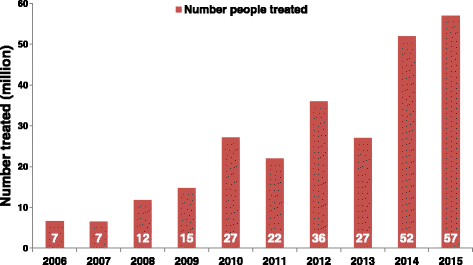 The summary of the global update of preventive chemotherapy implementation in 2015 revealed a significant improvement in the treatment coverage, reaching for schistosomiasis up to 41.8 and 40.8% for school-aged children at the global and African regional levels, respectively. However, we are still very far from the target, and there is a need to strengthen programme performances to scale-up the preventive implementation and increase the coverage.
Challenges and requirements
Moving from control to elimination of schistosomiasis is a paradigm shift that creates several challenges. Current interventions and strategies were designed for morbidity control or the elimination of schistosomiasis as a "public health problem" [9, 29]. The interruption of schistosomiasis transmission is a long-term undertaking but requires significant changes in the approach, design and strategies with a focus on reducing transmission and preventing reinfection. This involves several challenges such as implementation of intensified interventions, expansion of treatment coverage, use of alternative strategies, improvement of clean water supply, sanitation and hygiene, health education, funding for interventions, monitoring and evaluation, and strengthening of institutional capacities and surveillance response system. The present analysis highlights some of the key challenges and requirements for schistosomiasis elimination in sub-Saharan Africa.
Conclusion
It is clear that the landscape of schistosomiasis is changing across SSA owing to the many ongoing interventions currently underway. In some regions, country progress may be uneven but in some countries there are real prospects to transition from control into interruption of transmission and ultimately elimination settings. To manage this transition calls for reconsideration of some of the current diagnostic tools and the realignment of existing prevalence treatment thresholds and their interpretation in defining areas where intervention is required. The key challenge will be sustaining and expanding the current donation of praziquantel and judging when it is appropriate to move from MDA to selective treatment, which will ensure that the health system is adapted to respond to these new disease dynamics.
Declarations
Acknowledgements
LATT, JRS & DM participate in the four-country research programme consortium COUNTDOWN, funded by the Research and Evidence Division of the Department for International Development. We thank the GSA and Professor X Zhou for organising and facilitating this special issue of Infectious Diseases of Poverty.
Funding
The COUNTDOWN consortium receives funding from the Research and Evidence Division, Department for International Development, UK. LATT received financial support from the Bill & Melinda Gates Foundation, Grand Challenges Explorations.
Availability of data and materials
N/A.
Authors' contributions
LATT, DR, JRS DM contributed to writing the manuscript and gave approval of its final form. The basis behind this talk was presented by LATT at the 2016 meeting of the Global Schistosomiasis Alliance (GSA), in Shanghai, China.
Competing interests
The authors declare that they have no competing interests.
Consent for publication
All authors provided consent for publication.
Ethics approval and consent to participate
N/A.
Open AccessThis article is distributed under the terms of the Creative Commons Attribution 4.0 International License (http://creativecommons.org/licenses/by/4.0/), which permits unrestricted use, distribution, and reproduction in any medium, provided you give appropriate credit to the original author(s) and the source, provide a link to the Creative Commons license, and indicate if changes were made. The Creative Commons Public Domain Dedication waiver (http://creativecommons.org/publicdomain/zero/1.0/) applies to the data made available in this article, unless otherwise stated.
Authors' Affiliations
(1)
National Programme for the Control of Schistosomiasis and STH, Ministry of Public Health, Yaoundé, Cameroon
(2)
Centre for Schistosomiasis and Parasitology, University of Yaoundé I, Yaoundé, Cameroon
(3)
Department of Life Sciences, The Natural History Museum, London, UK
(4)
Department of Parasitology, Liverpool School of Tropical Medicine, Liverpool, UK