Research Article

Open Access
Knowledge, attitudes and practices related to cystic echinococcosis endemicity in Pakistan
Infectious Diseases of Poverty
2018
7:4
Received: 28 September 2017
Accepted: 20 December 2017
Published: 22 January 2018
Abstract
Background
Cystic echinococcosis (CE) is a human and animal health problem in many endemic areas worldwide. It is considered a neglected zoonotic disease caused by the larval form (hydatid cyst) of Echinococcus spp. tapeworm. There are limited studies on echinococcosis in Pakistan.
Methods
A cross-sectional survey was conducted to find out recent knowledge, attitudes and practices on the occurrence of cystic echinococcosis in butchers and dog owners in both urban and rural areas of Rawalpindi/Islamabad regions, Pakistan. The quantitative data was collected in the form of questionnaires to investigate the knowledge and awareness of CE among community members and their routine practices that were behind the factors involved in hydatid cyst infection. The practices and infrastructure of abattoirs/butcher shops and their role in transmission of cystic echinococcosis were also evaluated in the present study.
Results
The participants involved in the study were dog owners and people who kept animals. A total of 400 people were interviewed and 289 questionnaires were received. The results showed that only 4.1% of people have heard about the disease, and 58.1% were closely associated with dogs. Sixty-three percent of dogs in study area were consuming uncooked organs (e.g. liver, lung, etc.) of slaughtered animals, while 100% of dogs at butcher shops were consuming uncooked organs. Home slaughtering was common in 20.06%. Among butchers, 32.3% had heard about zoonoses and 7.61% knew about CE. The statistical analysis showed that there was highly significant difference (P < 0.05) among most of the practices that were associated with the prevalence of CE.
Conclusions
It was concluded from the present study that, the knowledge and awareness of CE among people of Rawalpindi/Islamabad were low. Because of dogs and poor knowledge of CE among community members and butchers, the transmission of echinococcosis is facilitated. Therefore, there is urgent need to strengthen awareness and health education among people, as well as proper practices related to the CE not only in the study area, but also in other areas of Pakistan.
Keywords
Cystic EchinococcosisPeopleKnowledgeAwarenessPracticeRiskPakistan
Multilingual abstracts
Please see Additional file 1 for translations of the abstract into the six official working languages of the United Nations
Background
Cystic echinococcosis (CE) is a larval stage disease of small taeniid type tapeworm (Echinococcus granulosus) that may cause infection in herbivorous animals and humans. Echinococcosis is one of the 17 neglected tropical diseases (NTDs) stated by the World Health Organization. E. granulosus is responsible for causing CE, which affects more than 1 million people around the world and responsible for over $3 billion in expenses every year [1]. The disease has about 1/100 000 prevalence in developed countries, whereas the rate is 10% in developing countries. Approximately 2 – 3 million human cases are thought to occur worldwide [2].
In Central Asia, echinococcosis is endemic and causes serious health problems. Various Echinococcus species reside in domesticated or wild mammals. Domesticated dogs and wild carnivores such as foxes, coyotes and wolves may act as definitive hosts, and livestock and humans act as intermediate hosts [3]. Humans become infected through accidental ingestion of food, vegetables, fruits or drinking water contaminated with the eggs of E. granulosus. Another possibility of acquiring infection is a direct contact with infected definitive hosts of the parasite [3]. In typical life cycle of E. granulosus, adult tapeworms that are usually 3-6 mm long reside in the small intestine of definitive hosts, then hydatid cyst stages occur in herbivorous intermediate hosts, such as sheep, cattle, goats, camels, horses, pigs and humans as well. In a typical dog-sheep cycle, tapeworm eggs are passed in the feces of an infected dog and may subsequently be ingested by grazing sheep; they hatch into embryos in intestine, penetrate intestinal lining, and are then picked up and carried by blood throughout the body to major filtering organs (mainly liver and/or lungs). After localization of developing embryos in a specific organ or site, they transform and develop into larval echinococcal cysts in which numerous tiny tapeworm heads called protoscolices are produced via asexual reproduction. A single cyst can have thousands of protoscolices, and each protoscolex is capable of developing into an adult worm if ingested by the definitive host [4].
There are many social reasons favouring the life cycle of E. granulosus and prevalence of CE in various parts of the world. Many families in rural have small plots of land and live in close proximity with their flocks and dogs. The gathering and grazing together of groups of animals belonging to different owners lead to circulation of infections, including CE. Home slaughter and feeding of dogs with raw offals favour the parasite's life cycle [5]. Various small and poor equipped slaughterhouses built in the area of human settlements, lack of public health education are other factors that favour the life cycle of E. granulosus. Stray dogs and other canids, especially wolves may feed on dead animals and garbage, and hunt intermediate hosts. Dogs and livestock living in close proximity with man leads to circulation of zoonotic infection. Moreover, high cost and difficulties of slaughtering single animals consequent to legislative rules may create situations of uncontrolled slaughtering [6].
Since there was little knowledge, attitudes and practices (KAP) studies in Pakistan, the objectives of this study was to determine the KAP associated with CE in a selected study area, and to provide some information for the development of intervention strategies and measures for CE in Pakistan.
Methods
Study area
The area selected for this survey included the region covering both twin cities of Islamabad and Rawalpindi, while samples were selected from various representative locations (Fig.
1
). Islamabad is located at 33.43°N 73.04°E at the northern edge of the Pothohar Plateau and at the foot of the Margalla Hills in Islamabad (Capital City of Pakistan). Its elevation is 540 meters (1 770 ft.) and it is made up of 505 km
2
of urban land and 401 km
2
of rural land [
7
]. The modern capital Islamabad and the city of Rawalpindi stand side by side and are commonly referred to as the twin cities, where no exact boundary exists between the two cities. Rawalpindi and Islamabad regions contain both urban and rural areas. According to census 2017, 47.05% of the population of Rawalpindi and 49.15% of the population of Islamabad belong to rural area. Moreover, 210 hydatid cyst cases have been reported in the study area in the past few years (unpublished data). Eighty-two percent of the population are Punjabi people, 10.3% consist of Pashto people and 7.6% are others. It has a total area of 259 km
2
(100 sq. mi) and an elevation of about 508 m (1 667 ft.) [
8
].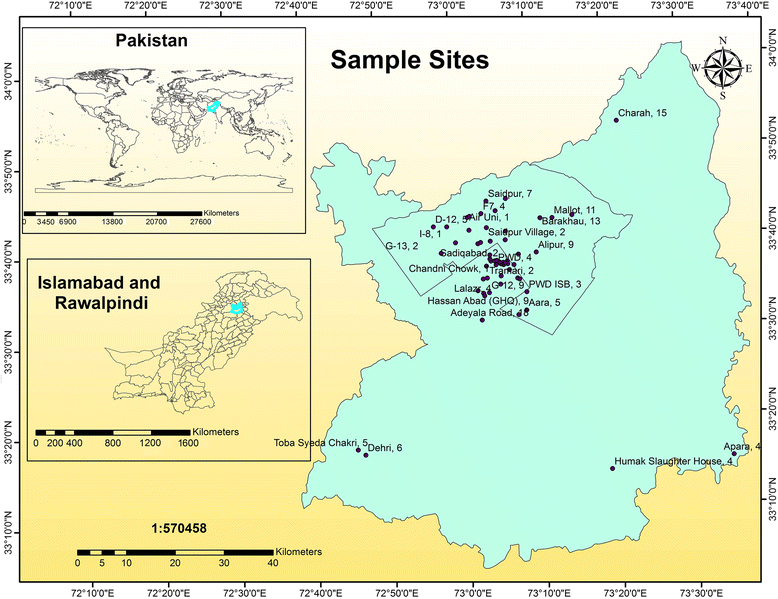 Study duration
The duration of the study was 6 months from January to July 2017. During this period, different abattoirs, butcher shops and villages of Rawalpindi and Islamabad were visited for collection of data concerning prevalence of hydatid cyst in lungs and liver of slaughtered animals. The sub-sampling method was used in this purpose.
Study design
The study design was a cross-sectional survey that was conducted in two selected cities. The study was carried out in two steps: at first, a door-to-door census of entire population of each area; and secondly, a survey using a structured questionnaire carried out by trained field workers or health workers. The survey was directed to all family members above 15 years old of households including butchers, urban people and villagers in a subset of randomly selected houses.
The study was carried out according to the Declaration of Helsinki Principles, International Conference on Harmonization, and all Pakistan pertinent regulations. Written informed consent was obtained from each participant at enrolment.
To find out recent information on the occurrence of hydatid cyst from different abattoirs, butcher shop and villages of twin cities were analysed. Questionnaire was descriptive in nature, and was designed for butchers (who used to feed dogs with slaughter organs/who had no stray dogs on shops), urban people (who kept dogs) and villagers (who kept dogs and livestock animals). Both qualitative and quantitative data were collected to check the awareness and knowledge of CE among the population and their routine practices that are behind the factors involved in high prevalence rate of hydatid cyst. A total of 289 questionnaires were filled from the twin cities. Data were collected from areas where expected exposure factors such as butchers, people with animals and dogs, and those who had close association with animals were present.
KAP and socio-demographic characteristics assessment
The questionnaire had a total of 23 questions divided as follows: 5 questions on knowledge of echinococcosis; 2 on each point such as symptoms, treatment, diagnosis, and measures; 7 questions on awareness towards transmission, prevention and diagnosis; and 9 questions on practices such as washing hand before eating food, playing with dogs, etc. For the assessment of socio-demographic characteristics, 5 questions on socio-demographic characteristics were included.
Inclusion and exclusion criteria
All dog owners (common people and butchers) who were 15 years of age and above with livestock who also possess dogs, were included in the study by selecting one family member from each family. Children less than 15 years of age and houses with livestock but no dogs were excluded from this study.
Data collection methods
The questionnaires were designed to collect data on socio-demographic characteristics as well as knowledge, awareness, practice related to CE. Moreover, data were analysed to determine the factors associated with knowledge, attitude and awareness towards CE. Since, the disease does not have a specific local name, pictures of infected human and cysts in animal organs were used to explain to the participants. Individuals were asked whether they know the disease or not, hence this was a Yes or No question which was binary. Knowledge and attitude were measured as binary outcomes [9].
Data analysis
Data were entered into MS Excel spread sheet and a database was established. Statistical analysis was performed using R Statistical Software Version 3.3.0. Chi-square at 95% (CI) was used to examine the factors involved in prevalence of hydatid cyst [10]. The relationship between different factors influencing knowledge, attitudes and practices were analysed. Statistically significant difference was considered if the test results were in P < 0.05.
Study variables
Both independent and dependent variables were included in the study [9].
Dependent variables
1.

Practices/factors associated with spread of CE

2.

3.

Attitude towards infection with CE
Independent variables in the study
| S. No | Variable | S. No | Variable |
| --- | --- | --- | --- |
| 1 | Gender of study participants | 11 | Deworming of dogs |
| 2 | Age | 12 | Home slaughtering |
| 3 | Occupation | 13 | Meat inspection |
| 4 | Level of education | 14 | Feeding of dogs with cysts |
| 5 | Animal keeping | 15 | Handling of dog fecal matter |
| 6 | Animal management system | 16 | Vegetable (raw) consumption |
| 7 | Dog ownership | 17 | Hand washing |
| 8 | Using dogs to guard livestock | 18 | Water treatment |
| 9 | Dog confinement | 19 | Source of water |
| 10 | Interaction of human with dogs | 20 | Waste disposal system |
Discussion
Pakistan is a country with a low socio-economic status. It is highly populated with approximately 200 million inhabitants, with most of these living in rural areas or very crowded urban areas with poor sanitary facilities. A large proportion of Pakistanis is affiliated with agriculture and local dairy farming on a small scale. The workers on these small farms come into close contact with animals and since proper health and hygiene principles are not strictly followed, thus, the inhabitants of these areas are also at high risk of acquiring Echinococcus spp. infections [11]. Humans can become infected through ingestion of parasite eggs in contaminated food, water or soil, or via direct contact with animal hosts. It has been shown that common sheep (G1) and buffalo (G3) strains of E. granulosus are circulating among livestock in Punjab and that these strains are highly adaptable to goats, camels and cattle. The molecular characterization of human cysts infected with Echinococcus spp. belonged to common sheep strain (G1) of E. granulosus, reinforcing the fact that this strain has potential for zoonotic transfer. Both morphological and molecular characterisation of Echinococcus spp. in Pakistan support findings similar from other parts of the world, suggesting that Echinococcus spp. of sheep and buffalo origin is phenotypically and genetically similar as worldwide. This adds further evidence to support its recognition as one species, namely E. granulosus sensu stricto [9, 10]. Some of the researchers conducted some surveys in China [12], Morocco [13], Algeria [14], Peru [15] and Uganda [16] based on Knowledge, attitude, practices and risk factors analysis.
Conclusion
It was concluded from this study that the knowledge about CE was generally very low. Just like many other neglected zoonoses, the residents of Rawalpindi/Islamabad did not know the threats associated dogs infected with E. granulosus and cattle with hydatid cysts, its life cycle, control and preventive measures. There were many practices and factors that can predispose the population of twin cities to infection by CE or people could actually be infected by the disease since some lesions/cysts were found in animals as well as in humans. It should be necessary to create awareness among people and other areas of Pakistan should also be explored. The emerging trend of echinococcosis in Pakistan brings the disease to limelight for future research. In order to control the disease, complete surveillance should be done which in turn weighs down the disease progress.
Declarations
Acknowledgements
The authors are thankful to interviewed participants i.e. Butchers, Rural and Urban members of Rawalpindi and Islamabad, Pakistan.
Availability of data and materials
Not applicable.
Authors' contributions
AK and KN collected the data and wrote the manuscript following discussions with HA. KN and HM facilitate in the data collection. WH did the statistical analysis. HA, MSA, WW, GY and SS revised the paper and improved the technical quality of the manuscript. All authors approved the final version of the paper.
Ethics approval and consent to participate
Not applicable.
Consent for publication
Not applicable.
Competing interests
The authors declare that there is no competing interest or financial disclosure about this publication.
Open AccessThis article is distributed under the terms of the Creative Commons Attribution 4.0 International License (http://creativecommons.org/licenses/by/4.0/), which permits unrestricted use, distribution, and reproduction in any medium, provided you give appropriate credit to the original author(s) and the source, provide a link to the Creative Commons license, and indicate if changes were made. The Creative Commons Public Domain Dedication waiver (http://creativecommons.org/publicdomain/zero/1.0/) applies to the data made available in this article, unless otherwise stated.
Authors' Affiliations
(1)
Department of Biosciences, COMSATS Institute of Information Technology (CIIT), Islamabad, Pakistan
(2)
Department of Parasitology, Faculty of Veterinary Medicine, University of Firat, Elazig, Turkey
(3)
Department of Life Sciences, University of Management and Technology (UMT), Lahore, Pakistan
(4)
Department of Echinococcosis, National Institute of Parasitic Diseases, Chinese Center for Disease Control and Prevention, Key Laboratory of Parasite and Vector Biology, Ministry of Health, WHO Collaborating Center of Tropical Diseases, National Center for International Researches on Tropical Diseases, Ministry of Science and Technology, Shanghai, China
(5)
Center for Global Health, National Institute of Parasitic Diseases, Chinese Center for Disease Control and Prevention, Key Laboratory of Parasite and Vector Biology, Ministry of Health, WHO Collaborating Center of Tropical Diseases, National Center for International Researches on Tropical Diseases, Ministry of Science and Technology, Shanghai, China
(6)
Department of Environmental Sciences, Fatima Jinnah Women University, Rawalpindi, Pakistan