Scoping Review
Open Access
Extent of morbidity associated with schistosomiasis infection in Malawi: a review paper
Infectious Diseases of Poverty
2015
4:25
Received: 15 June 2014
Accepted: 9 April 2015
Published: 4 May 2015
Abstract
Data on the extent of the burden due to schistosomiasis is sparse in most Sub-Saharan African countries. However, this data is crucial for triggering medical attention. A review of extent of morbidity and determinants associated with schistosomiasis in Malawi was therefore conducted to quantify the infection in order to concretise the need for medical intervention. A systematic and traditional search strategy was used to find literature for the review, whilst exclusion and inclusion criteria were used to identify appropriate articles. Logistic regression curves of epidemiological model Y = (a + bx c )/(1 + bx c ) and the recommendation that schistosomiasis prevalence can be used to estimate morbidity were employed to quantify morbidity at various infection stages. Morbidity was quantified as a direct proportion of the population and the respective national schistosomiasis prevalence. Findings showed that both S. mansoni and S. haematobium are present in Malawi with the latter highly prevalent (50%). Furthermore, out of the estimated population of 16,829 million, approximately 8.4 million have schistosomiasis, with about 4.4 million of these aged 18 years and below. The most frequent manifestation is Katayama syndrome, while ascites is the lowest, impacting about 3.0 million and 960 individuals, respectively. Localised studies on association of schistosomiasis infection to risk factors such as occupation, age and gender found odds ratio (OR) ranging from 1.29 to 5.37. Morbidity due to schistosomiasis is high in Malawi. It is therefore recommended that a more detailed study on the determinants of high schistosomiasis and re-evaluation of the current control measures be conducted if the current morbidity statistics are to be remarkably reduced.
Keywords
SchistosomiasisMorbidityRisk factorsQuantificationBurdenExtent
Multilingual abstracts
Please see Additional file 1 for translations of the abstract into the six official working languages of the United Nations.
Introduction
There are both urinary and intestinal schistosomiasis present in Malawi, but their prevalences vary widely in space and magnitude [1,2]. Despite the existence of the disease, officially harmonised morbidity, mortality, or associated mortality and morbidity data are not readily available. This paper is a review of the relevant studies conducted on schistosomiasis in Malawi with special focus on morbidity, prevalence and determinants (risk factors, and knowledge, attitude and practices [KAP]) of the disease.
Malawi is a country located in Southern Africa and occupies an area of approximately 119,000 km2. It has an estimated population of 16,829 million [3,4]. The country is bordered by Zambia in the west, Tanzania in the north and northeast, and Mozambique in the east, south and southwest. It is subdivided into three administrative regions: Southern, Central and Northern [3].
Schistosomiasis, also known as bilharziasis or bilharzia [5], is one of the chronic parasitic diseases caused by digenetic trematodes of the genus Schistosoma. Humans can acquire it through contact with cercariae-infested freshwaters. It is endemic in 78 countries and is caused by at least seven schistosome species which include S. haematobium, S. mansoni, S. japonicum, S. intercalatum, S. malayensis, S. mekongi and S. sinensium [5,6]. Schistosoma haematobium and S. mansoni are the two species most endemic in Sub-Saharan Africa causing urinary and intestinal schistosomiasis, respectively [7]. Bulinus and Biomphalaria species are the intermediate host snails for S. haematobium and S. mansoni, respectively [8].
The life cycle requires surface freshwater in which the parasite eggs from infected humans will hatch into miracidia. The miracidia penetrate an appropriate aquatic snail where they mature into cercariae. The cercariae then leaves the snail and penetrates the human skin and develops inside the body to maturity [9,10]. The matured schistosomes have separate sexes and the male body has a groove where the female is held for the rest of its life, releasing fertilised eggs [10]. Among the common signs, intestinal schistosomiasis causes fatigue, abdominal pain, diarrhoea and blood-stained stools, while urinary schistosomiasis causes dysuria, frequent urination and terminal haematuria [11]. Schistosomiasis can be diagnosed microscopically by examining schistosome eggs in the stool (S. mansoni) or urine (S. haematobium) [12]. In addition, urinary schistosomiasis can be detected by the presence of blood in the urine and intestinal schistosomiasis by blood in the stool [9]. A number of the symptoms and signs of schistosomiasis infection are common to other diseases, and as such, it is not easy to isolate and estimate the extent to which schistosomiasis can cause morbidity in the human population [13]. It is with this background that this review was conducted to quantify the morbidity due to schistosomiasis in Malawi.
Review
An integrated literature search, comprising traditional and systematic literature search and review approaches, was used. The retrieved literature was screened and synthesised according to a set of predetermined criteria. The systematic literature search was conducted using PubMed, Global Health, HINARI and World Health Organization (WHO) databases and relevant journals, whilst a traditional literature search collected information from different institutions, Google, bibliographies of identified papers and grey literature. Institutions that were consulted in Malawi included the Ministry of Health (MoH), the Bilharzia Control Programme office, College of Medicine Library and various individuals. A decision tree for inclusion and exclusion of articles was used, as described in [
14
] and outlined in Figure
1
.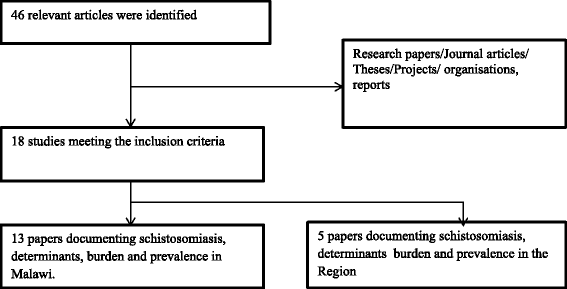 Conclusion
This review has unveiled alarming schistosomiasis morbidity statistics in Malawi amidst years of chemotherapeutical intervention. It has further revealed that risk factors, and knowledge, attitude and practices on schistosomiasis have not been adequately explored. It is expected that more information about the disease in the country will be disclosed as more studies are being conducted. Re-evaluation of the current control measures and implementation of integrated targeted and effective schistosomiasis control measures are recommended if the current morbidity statistics are to be remarkably reduced.
Study limitations
Whilst every effort was made to gather all the relevant documents and information, a number of grey literatures on KAP for the study, including those conducted by the Danish Bilharzia Laboratory around the 1990s, could not be accessed. This is because the literature is not readily available in the public domain. However, since this review mostly focused on the quantification of morbidity and the rest of the information is only supportive, the absence of this literature would not significantly change the outcome of this review.
Endnote
a Y denotes specific morbidity; x denotes schistosomiasis infection; a denotes prevalence due to other diseases; b and c denote degree of association where b = (c–1)/(c + 1).
Declarations
Acknowledgements
This research was supported by the Consortium for Advanced Research Training in Africa (CARTA), which is jointly led by the African Population and Health Research Centre and the University of the Witwatersrand, and funded by the Wellcome Trust (UK) (Grant No: 087547/Z/08/Z), the Department for International Development (DFID) under the Development Partnerships in Higher Education (DelPHE), the Carnegie Corporation of New York (Grant No: B 8606), the Ford Foundation (Grant No: 1100–0399), Google.org (Grant No: 191994), Sida (Grant No: 54100029) and the MacArthur Foundation (Grant No: 10-95915-000-INP).
We sincerely appreciate the support from the Lilongwe University of Agriculture and Natural Resources (LUANAR) for co-funding the research from which this work stemed, and also permitting us to access their libraries and using their internet to access online articles.
Authors' Affiliations
(1)
Lilongwe University of Agriculture and Natural Resources (LUANAR), Lilongwe, Malawi
(2)
Zoology Department, University of Dar es Salaam, College of Natural and Applied Science, Dar es Salaam, Tanzania
(3)
Biological Sciences Unit, Dar es Salaam University College of Education (DUCE), Dar es Salaam, Tanzania
(4)
University of Malawi, Kamuzu College of Nursing, Lilongwe, Malawi
Copyright
© Mtethiwa et al.; licensee BioMed Central. 2015
This is an Open Access article distributed under the terms of the Creative Commons Attribution License (http://creativecommons.org/licenses/by/4.0), which permits unrestricted use, distribution, and reproduction in any medium, provided the original work is properly credited. The Creative Commons Public Domain Dedication waiver (http://creativecommons.org/publicdomain/zero/1.0/) applies to the data made available in this article, unless otherwise stated.