Scoping Review

Open Access
Epidemiological characteristics of human prion diseases
Infectious Diseases of Poverty
2016
5:47
Received: 22 January 2016
Accepted: 4 May 2016
Published: 2 June 2016
Abstract
Human prion diseases are a group of transmissible, progressive, and invariably fatal neurodegenerative disorders, which include Kuru, Creutzfeldt-Jakob disease (CJD), Gerstmann-Sträussler-Scheinker syndrome, and fatal familial insomnia. Human prion diseases affect approximately 1–2 persons per million worldwide annually, occurring in sporadic, inherited, and acquired forms. These diseases have attracted both scientific and public attention not only because of their mysterious pathogen, but also due to their considerable threat to public health since the emergence of the variant CJD.
There are still no specific therapeutic and prophylactic interventions available for prion diseases, thus active surveillance of human prion diseases is critical for disease control and prevention. Since 1993, CJD surveillance systems have been established in many countries and regions, and several long-term multinational cooperative projects have been conducted.
In this paper, the epidemiological characteristics of various human prion diseases and the active surveillance systems pertaining to them in different countries and regions are summarized and reviewed.
Keywords
Prion diseaseEpidemiologyCreutzfeldt-Jakob diseaseSurveillance
Multilingual abstract
Please see Additional file 1 for translations of the abstract into the six official working languages of the United Nations.
Background
Human prion diseases, also named transmissible spongiform encephalopathies (TSEs), are fatal neurodegenerative disorders, which include Kuru, Creutzfeldt-Jakob disease (CJD), Gerstmann-Sträussler-Scheinker syndrome (GSS), and fatal familial insomnia (FFI). These various subtypes have different characteristics based on the onset times/durations of the disease, genetic/family histories of the patients, clinical manifestations, neuropathology, and scrapie-like prion protein (PrPSc) molecular features [1, 2]. It is widely accepted that TSEs result from the conformational conversion of a normal cellular prion protein (PrPC) into an abnormal misfolded pathological form (PrPSc). An accumulation of PrPSc leads to the onset of TSEs, which attack the central nervous system, resulting in progressive neuronal degeneration and neuronal vacuolation [3].
Currently, Kuru is virtually extinct due to a ban on ritualistic cannibalism in the area of Papua New Guinea where it was endemic. Most of the human prion diseases are CJD, which consist of three main catalogues: sporadic, genetic, and acquired [1]. Approximately 85–90 % of CJD cases occur sporadically and affect 1–1.5 people per million annually [4]. Familial/genetic CJD (fCJD/gCJD) account for about 10 % of CJD cases worldwide [5]. Acquired prion diseases include variant CJD (vCJD) and iatrogenic CJD (iCJD), and are observed in 2–5 % of CJD cases. Depending on the origin of the causative agent, human prion diseases can be divided into two groups: caused by prions originating internally, such as in the case of fCJD/gCJD, GSS, and FFI; or infected by external prions, such as in the case of Kuru, iCJD, and vCJD [6].
The pathogenesis of sporadic CJD (sCJD) is little known. Many case–control studies on the risk factors for sCJD have been conducted, with varying results, but no consistent data are available [7–12]. However, the opportunity of external prion infection is still not easy to be excluded definitely during long life-span [13].
As there are no specific therapeutic and prophylactic interventions available for prion diseases, active surveillance is critical for the control and prevention of human prion diseases, especially those diseases caused by animal-derived prion agents. Since 1993, many national CJD surveillance systems have been established and several multinational cooperative organizations have also been set up for CJD surveillance and research [14–18]. In the present review, the epidemiological characteristics of various subtypes of human prion diseases and the active surveillance systems pertaining to them are summarized and discussed.
Epidemiological characteristics of human prion diseases
Surveillance of human prion diseases
Due to the impact that the BSE outbreak and the emergence of vCJD has had on public health, many countries and regions have initiated or re-initiated their surveillance programs for human prion diseases. Initially, two major surveillance networks for human prion diseases were created by the European Commission. One is the EuroCJD established in 1993 by seven countries (Austria, France, Germany, Italy, Netherlands, Slovakia, and the UK), which was later expanded to other European and non-European countries such as Australia, Canada, and Spain. The other one is NeuroCJD initiated in 1998, which includes all the other European countries and Israel [
18
,
34
,
79
]. In 2008, the CJD International Surveillance Network (formerly EuroCJD) was launched and funded by the European Center for Disease Prevention and Control (CDC) [
94
,
95
]. The network includes 28 collaborating centers from European Union (EU) Member States, European Free Trade Association countries, and eight non-EU countries/regions (Argentina, Australia, Japan, Canada, Mexico, China, Israel, USA, and China-Taiwan) (see Fig.
4
). The primary objective of the network is to identify all cases of vCJD in the EU and provide accurate data on the worldwide incidence of vCJD through collaborations with other non-EU countries.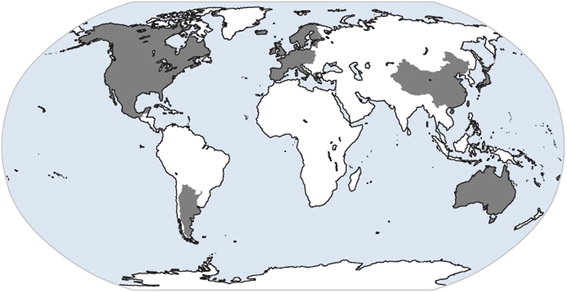 Besides these major CJD surveillance networks, there are several other CJD surveillance and/or research groups intra- and internationally, including CJD surveillance in Central and Eastern European countries [96]. NeuroPrion, which aims to structure and integrate the efforts of the main European prion research teams for the effective management of prion diseases is funded by the European Commission and has been operating since 2003 [18]. In 1997, the National Prion Disease Pathology Surveillance Center of the US was established at the Case Western Reserve University [97] and the following year, the Canadian CJD surveillance system was initiated by the Public Health Agency of Canada [98]. In 1999, the CJD Surveillance Committee was established at the Kanazawa University of Japan, which started carrying out surveillance of CJD nationwide [16]. The CJD surveillance program in the Republic of Korea was established in 2001 and it is supported by the Korean CDCs [18]. In 2006, the China CJD surveillance program was initiated, which is supported by the Chinese CDC [22].
CJD surveillance systems have some unique features compared with other public health surveillance systems. One is that due to a lack of approved biomarkers for CJDs, specific types of clinical and laboratory approaches are critical to effectively diagnose and monitor CJDs. The other is that CJD surveillance systems are primarily dependent on reports from physicians, especially neurologists and neuropathologists in regional hospitals and medical centers where first visit for most patients. Thus, the experiences of these specialists directly determine the quality of the collected specimens, such as accurate identify the clinical manifestations of CJD or supply the appropriate specimens to CJD surveillance center. Both aspects seriously impact the sensitivity of CJD surveillance.
Conclusion
Human prion diseases are invariably fatal neurodegenerative disorders. The emergence of the novel prion strain, which include the causative agent of vCJD, has created an important public health concern. New prion strains continually emerge in livestock, and their threats to other domestic animals and humans are uncertain and need long-term evaluation and assessment. Strategies for early diagnosis of and therapies to treat human prion diseases remain unavailable. Therefore, except for developing treatment for prion diseases, the most feasible method to prevent these diseases from spreading, either via human-to-human or zoonotic transmission, is active surveillance and improving the sensitivity and specificity of laboratory diagnostic procedures. This will require more clinicians and experts participating in regional, national, and global systems by investing more of an effort toward reliable and accurate diagnostic methods for the control of prion diseases.
Abbreviations
BSE:

bovine spongiform encephalopathy
CDC:

center for disease control and prevention
CJD:

Creutzfeldt-Jakob disease
EU:

European union
EuroCJD:

European Creutzfeldt-Jakob disease surveillance network
fCJD:

familial Creutzfeldt-Jakob disease
FFI:

fatal familial insomnia
gCJD:

genetic Creutzfeldt-Jakob disease
GSS:

gerstmann-sträussler-scheinker syndrome
hGH:

human growthhormone
iCJD:

iatrogenic Creutzfeldt-Jakob disease
M129M:

methionine/methionine homozygote at codon 129
PRNP:

human gene encoding for the major prion protein
PrP:

prion protein
PrPC :

cellular prion protein
PrPSc :

scrapie-like prion protein
sCJD:

sporadic Creutzfeldt-Jakob disease
SNP:

single nucleotide polymorphism
TSEs:

transmissible spongiform encephalopathies
UK:

United Kingdom
US:

United States
vCJD:

variant Creutzfeldt-Jakob disease
Declarations
Funding
This work was supported by the Chinese National Natural Science Foundation Grants (81401670), the China Mega-Project for Infectious Diseases (2011ZX10004-101, 2012ZX10004215), and the SKLID Development Grant (2012SKLID102).
Open AccessThis article is distributed under the terms of the Creative Commons Attribution 4.0 International License (http://creativecommons.org/licenses/by/4.0/), which permits unrestricted use, distribution, and reproduction in any medium, provided you give appropriate credit to the original author(s) and the source, provide a link to the Creative Commons license, and indicate if changes were made. The Creative Commons Public Domain Dedication waiver (http://creativecommons.org/publicdomain/zero/1.0/) applies to the data made available in this article, unless otherwise stated.
Authors' Affiliations
(1)
State Key Laboratory for Infectious Disease Prevention and Control, National Institute for Viral Disease Control and Prevention, Chinese Center for Disease Control and Prevention, Beijing, China
(2)
Collaborative Innovation Center for Diagnosis and Treatment of Infectious Diseases, Zhejiang University, Hangzhou, China
(3)
Chinese Academy of Sciences Key Laboratory of Pathogenic Microbiology and Immunology, Institute of Microbiology, Chinese Academy of Sciences, Beijing, China