Scoping Review

Open Access
Narrative overview of animal and human brucellosis in Morocco: intensification of livestock production as a driver for emergence?
Infectious Diseases of Poverty
2015
4:57
Received: 7 August 2015
Accepted: 27 November 2015
Published: 22 December 2015
Abstract
Brucellosis is one of the most widespread zoonoses in the world caused by several species of the genus Brucella. The disease, eradicated in many developed countries, is a re-emerging neglected zoonosis endemic in several zones especially in the Mediterranean region, impacting on human health and livestock production. A One Health approach could address brucellosis control in Morocco but scarcity of reliable epidemiological data, as well as underreporting, hinders the implementation of sustainable control strategies. Surveillance and control policies implemented by the Moroccan government in domestic animals (cattle and small ruminants) in the last few decades are assessed for disease impact. This study considers the origins of animal brucellosis in Morocco and the potential for emergence of brucellosis during a shift from extensive to intensive livestock production.
Keywords
BrucellosisMoroccoCattleSmall ruminantCamelHumanControlEpidemiologySurveillanceEmergence
Introduction
Brucellosis is one of the most widespread zoonoses caused by several species of the genus Brucella [1–3]. Presently, the genus includes 11 nominal species [4], among which B. melitensis and B. abortus are the most economically important and cause disease in cattle and small ruminants respectively. Brucellae show host preference but are not host specific, and spillover can occur when different host species are managed together or share grazing grounds and water sources. The disease, eradicated in many developed countries, is a re-emerging neglected zoonosis endemic in several zones, especially in the Mediterranean region [1, 5, 6], impacting on human health and livestock production [7, 8]. Across the African continent brucellosis is poorly documented [9–12] and under-reported in both human and animal populations [9].
Human brucellosis causes a flu-like illness with fever (which may be undulant), weakness, malaise, myalgia and weight loss. The disease is debilitating, often chronic and insidious and associated with serious complications (e.g., endocarditis, musculoskeletal lesions, spondylitis and neurobrucellosis) some of which are fatal if untreated. Clinical diagnosis is challenging and the disease is often misdiagnosed as malaria or other fevers [13]; for every case of brucellosis diagnosed, four are thought to go undetected [8]. Animals are the only significant source of human brucellosis; transmission occurs through direct contact with livestock or through the consumption of raw milk and dairy products. Brucellosis is an occupational hazard for veterinarians, abattoir workers and livestock keepers.
In livestock, brucellosis causes abortion, infertility in both male and female animals and reduced milk yields. Brucellae are excreted in vaginal secretions of infected females and are at their highest level immediately after abortion or birth; products of abortion and birthing materials are the main source of contagion, although vertical and sexual transmission and transmission through lactation also occurs. Extensive production systems exhibit low rates of disease transmission and lower disease burden, while intensification promotes transmission due to increased stocking densities, animal contacts and a higher birth index [1, 10, 12, 14, 15].
Control of brucellosis should be amenable to application of a 'One Health' approach [12, 16, 17] but under-reporting and a dearth of prevalence and incidence data impede implementation of appropriate control strategies. The cost effectiveness for brucellosis control has been demonstrated in a mass brucellosis vaccination programme in Mongolia [18]. In most developing nations, husbandry systems with poor veterinary inputs and the keeping of mixed species, close contact with humans, limited movement controls and lack of pasteurisation make brucellosis control difficult [19].
Morocco has an estimated population of 34 million people, mostly concentrated in the northwest [20] with 40 % involved in agriculture; 75 % of the rural poor derive their livelihoods from agriculture. Agriculture contributes 17 % of the GDP [21] and livestock accounts for 25–30 % of the agricultural GDP [22]. 18 % of farmers gain income solely from animal rearing, but livestock are kept by the majority as financial back-up to buffer against crop failure [23].
Terrain, land cover, agro-ecological zones (Table
1
), regions and provinces of Morocco are displayed in Fig.
1
. Intensive agriculture is found mostly in irrigated areas along the Atlantic coast. Vast areas of steppe east of the middle Atlas and on the high eastern plateau are used as rangeland for extensive livestock production. Government estimates for 2014 put cattle, sheep, goat and camel populations at 3.23 million, 19.23 million, 6.15 million and 178,825 respectively [
24
] in line with the 3.17 million, 19.96 million, 6.24 million respectively reported by the FAO [
25
] (although the estimate for camels is substantially lower at 57,000).
Table 1
Main agro-ecological zones in Morocco
| Zone | Dominant agriculture & production system |
| --- | --- |
| Eastern high plateau | Sheep and goat nomadic system shifting to more settled. Barley. Dairy cattle in irrigated areas. |
| Middle Atlas | Integrated crop and livestock (sheep, goats and some cattle) subsistence system. Summer transhumance of sheep flocks. |
| Rif, high Atlas, small Atlas, southern Oasis | Settled, diversified (crop livestock combinations), relatively intensive and usually irrigated. Forage production and conservation. |
| Coastal plains | Large-scale cereal cultivation associated with increasingly intensive sheep and cattle (dairy and beef) production. Irrigated perimeter and rainfed agriculture. Mix of subsistence and large farms. |
| Saharan | Cropping limited to irrigated areas. Dominance of extensive livestock production (goats, sheep and camels). |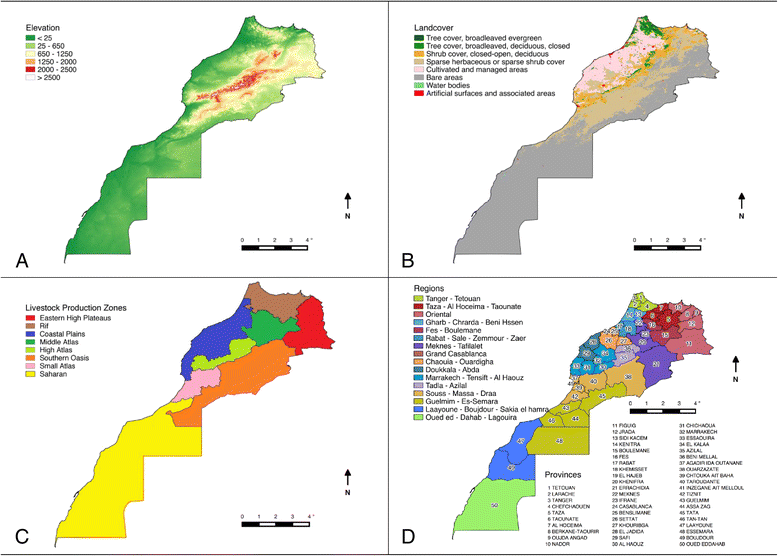 This review examines the evolution of the epidemiological situation of brucellosis in domestic ruminants and humans in Morocco and describes surveillance, control and livestock policies implemented by the Moroccan government. The origin and emergence of animal and human brucellosis in Morocco are discussed.
Brucellosis in small ruminants
Brucellosis in camels
Pastoralists mainly rear camels in subsistence production systems in the arid Saharan zone (Fig. 1). Despite a substantial camel population in the south of Morocco (Fig. 2g, h), only one study reports detection of B. abortus, [45]. Without a description of the diagnostic method (serology versus bacteriology) this information is of limited value; discrimination between Brucella species is not possible by serology. Serological and bacteriological studies are required (see Evolution of epidemiological situation below).
Brucellosis in wildlife
Morocco is home to a range of wild ungulates, which are mostly found in nature reserves situated in all regions of the Kingdom. The most recent population estimates are: 139 dama gazelle (Gazella dama mhorr), 550 addax (Addax nasomaculatus), 260 Scimitar oryx (Oryx dammah), 108 Atlas deer/ Barbary stag (Cervus elaphus barbarus), 321 red deer (Cervus elaphus), 842 Barbary sheep (Ammotragus lervia) [95]. To the best of the authors' knowledge, no study on brucellosis has ever been undertaken in wildlife in Morocco. Nevertheless, a 0.4 % seroprevalence and isolation of B. abortus biovar 1 have been reported in red deer in nearby Spain [96]. Studies on the epidemiology of brucellosis in wild ungulates and their potential role as spillover hosts from or to livestock are lacking.
Human brucellosis
Bacteriological and molecular evidence
The only four studies to have isolated and characterised Brucella species for human cases report isolation of B. melitensis from a man from the south of Morocco [97], a women returning to Taiwan after travel to Morocco [98] and 13 cases diagnosed in France but exposed in Morocco [90, 99] (Additional file 9: Table S9). A Moroccan clinical case report claiming that B. melitensis was isolated does not describe the methods for isolation or typing, and cannot be confirmed [97].
Isolation of B. melitensis biovar 3 in France from cases exposed in Morocco was reported [90, 99], although only one study adequately describes the typing methods used. B. melitensis, whose preferential host is small ruminants, is the main causal agent of human infection in Morocco. B. melitensis, especially the predominant biovar 3, constitutes the greatest risk to humans in Mediterranean countries [69, 100, 101]. MLVA analysis revealed that some Moroccan strains cluster with European strains whilst others formed an independent cluster, which suggests that B. melitensis may have been imported from Europe but that there could also be local or autochthonous strains [90] .
Transmission from small ruminants to humans is most likely from occupational exposure for livestock keepers, veterinarians and abattoir workers, and by consumption of raw dairy products from small ruminants (especially goats) in the wider population. Consumption of raw goat milk and jben (cheese made with raw goat or cow milk) is widespread in Morocco despite the legislation stipulating that goat milk can only be sold by producers with brucellosis free-status [102]. The role of consumption of raw dairy products in transmission is illustrated by additional information gathered on the Brucella strains [90]. Seven cases indicated consumption of raw milk or cheese (presumably from goats or sheep although not specified). Human cases of B. melitensis as a result of consumption of raw dairy products of cattle origin have been documented [103].
The absence of isolation of B. abortus from human cases reflects a lack of studies rather than the relative unimportance of cattle (especially dairy) as a reservoir for human disease. Despite Moroccan legislation imposing pasteurisation of raw milk, informal dairy chains (accounting for 20–30 % of milk consumed) continue to be a hazard for brucellosis transmission [28]. Informal milk chains are active in the dairy basins near large urban centres, as some consumers prefer traditional dairy preparations (jben, raib, smen, etc.) using raw unpasteurised milk [27]. In a study of 11 rural regions of Morocco, 66 % of households were found to consume raw dairy products [104].
Evolution of epidemiological situation
There is very little serological evidence on human brucellosis in Morocco (Table 2, Additional file 10: Table S10).
1916–2000s
The first case of human brucellosis in Morocco was reported in El Jadida in 1916, followed by a further two cases in 1922 in Meknes in owners of a dairy goat farm of imported breeds [46]. Other authors claim human brucellosis originated in the Tanger region [56]. 63 alleged cases were reported between 1916 and 1938, prompting the Brucellosis Act for the control of the disease in the animal reservoir [46].
The impression of early researchers was that human cases prior to the mass importation of dairy cattle from Europe in the 1960s were a result of contact with goats or their dairy products, especially those of Spanish breeds reared intensively for milk production. With emergence of brucellosis in cattle, however, B. abortus was considered the causal agent of human disease [45]. Prior to mass importation of cattle, human cases were reported from regions with the highest density of goats (Fig. 2e, f), including the Atlas (Azrou, Itzer, Rich, Taza) and the Oriental region (Taourirt, Oujda), whereas later more cases originated from urban centres of Casablanca, Rabat-Sale, Marrakesh, El Jadida, the centres of dairy cattle production (Figs. 1d and 2a, b) [45].
Early researchers were aware of the under-diagnosis and under-reporting of brucellosis [56]. The impression was that Europeans were over represented, as they were more 'sensitive' to the disease but it is more likely that Europeans would seek medical attention and be diagnosed. The reluctance of the Fellah (Moroccan farmers) to seek medical attention for brucellosis may have resulted in under-detection of the disease [56]. The low rate of disease in local farmers was attributed to farmer practice of selling aborting females (thereby getting rid of the source of contagion), pasteurisation of milk (although recent reports that suggest consumption of raw dairy products is, and always was, widespread in Morocco [27]) and souring of Lben (a yogurt drink) the high acidity of which was wrongly believed to kill Brucella 5.
In 1970 it was found that 2.9 % of 1084 hospital patients in Rabat, Safi, Meknes, Marrakesh, El Jadida, Taza, Tanger and Oujda were serologically positive (SAT titre over 1/80) [45]. Butchers and abattoir workers from Rabat and Kenitra sampled as part of the same study were all seronegative except for one sample that yielded a SAT titre of 1/80 but was CFT negative. SAT is not recommended as a single screening test but the Coombs test performed after SAT detects the non-agglutinating antibodies when they exist so that the SAT-Coombs combination can be used to assess the time of evolution (from high SAT titers and negative Coombs in acute cases to negative SAT and high Coombs titers in long evolution cases). Use of SAT without the Coombs test limits sensitivity. The only conclusion that can be drawn is that human brucellosis was present in this population.
2000s to present
The most 'comprehensive' serological study undertaken in Morocco was a three-stage cluster survey conducted on rural populations across 11 regions in 1999 [104]. The study showed an overall seroprevalence of 1.5 % using RBT. Regions most affected were the southern zones of Marrakech -Tensift-El Haouz and Souss-Massa-Draa (Fig. 1d) with 2.8 % and 3.3 % seroprevalence respectively (Additional file 10: Table S10).
A recent hospital study of 593 randomly selected persons presenting to clinics in 2011 in Meknes, Rabat and Kenitra found one person, a 38 year-old woman from Rabat, positive by RBT, SAT/Coombs and Brucellacapt (Ducrotoy et al., unpublished). High Coombs and low SAT titres suggest long evolution brucellosis, but without anamnesis or a clinical history this cannot be confirmed.
The RBT has a high sensitivity (99 %) as its acid pH enables detection of smooth lipopolysaccharide (S-LPS) specific IgM, IgG and IgA and neither prozones nor blocking antibodies are sources of false negative results [105]. The diagnosis of human brucellosis by serology must take into account the fact that some individuals develop antibodies upon exposure to the bacterium but do not become infected, especially in endemic areas [105]. A thorough clinical examination and presence of clinical signs compatible with brucellosis are essential to interpret any brucellosis serological test result, RBT included. In endemic areas, where RBT specificity is likely reduced to 94–96 % [106] weak positive RBT results can be analysed further using the adaptation of the RBT to test serum dilutions. Titres equal to or higher than 1/8 indicate active brucellosis; titres 1/2 and 1/4 must be interpreted according to the presence/absence of symptoms and clinical signs [105].
The rare human cases reported are either diagnosed in referral hospitals of Rabat [97, 107] or were diagnosed abroad (France and Taiwan) [98, 99]. For those diagnosed abroad two scenarios arise: firstly, patients of Moroccan origin presenting to European health services and thereby assumed to have been exposed in Morocco; secondly, patients of non-Moroccan origin with a recent travel history to Morocco presenting to the health services of their home country. Underreporting prevails despite brucellosis being recognised by the authorities as an occupational disease for which compensation can be claimed. Cases are rarely declared because only professionals benefitting from social security can claim compensation [71].
Government reports of brucellosis cases from 1999 onwards indicate between 0 and 27 brucellosis cases reported per year, with a median of 2.5 cases per year (Additional file 11: Table S11). Since 2006, data on the Province of origin has revealed that cases have been reported from the Oriental region (Oujda, Figuig, Jerrada Provinces, Fig. 1d) and the regions of the Sahara (Laayoune, Boujdour, Aoussard, Oued Eddahad Provinces, Fig. 1d). This may reflect a higher index of suspicion for the disease by the health services rather than higher burden of cases in these zones.
Since the outbreak of small ruminant brucellosis in the Oriental region and vaccination campaign, emphasis has been placed on monitoring the brucellosis situation in this region. It makes sense to suspect a higher burden of human disease in a zone where small ruminant brucellosis dominates, as the majority of human cases are caused by B. melitensis. The impression of public health experts is that human brucellosis should be most prevalent in the Oriental region [104].
The explanation for the focus of cases from Laayoune (Sahara, Fig. 1d) is unclear. This area has few cattle and small ruminants, but harbours a substantial camel population (Fig. 2g, h), raising questions as to the role of camels as a reservoir of brucellosis. Serological and bacteriological studies on camel and human brucellosis in Laayoune are required.
Emergence of human brucellosis in Morocco
The recent shift in the distribution of sheep from inland mountainous areas to the coastal plains (Fig. 2c, d) may promote emergence of B. melitensis, with consequences for the human population, which consumes large amounts of raw dairy products. Changes in milk consumption habits have also been documented as part of the rural urban drift, and this opens up opportunities for the emergence of brucellosis in humans [27]. Further studies are clearly needed to explore the nature of change in the livestock systems and consumer habits and the impact of this on the dual (animal and human) brucellosis burden. Refai [108] reports that this trend is already a reality in many countries of the Near East region: with recent intensification in importation of animals and establishment of big farms, the incidence of brucellosis has risen sharply in many countries, both in man and animals. Figure 2e, f suggests that the goat population of Morocco is declining, which may also impact on the distribution and prevalence of B. melitensis and its transmission to humans.
Materials and methods
This is a narrative overview of published and grey literature on brucellosis in Morocco as previously tested by Ducrotoy et al. [10].
Conclusion
The evidence reviewed in this paper shows the potential for emergence of brucellosis during a shift from extensive to intensive modes of livestock production and indicates the importance of sustainable control to prevent re-emergence of disease. The review also illustrates challenges faced by Government in obtaining a sound evidence base on which to build control strategies. Huge gaps exist in our knowledge of this important zoonosis in Morocco and livestock seroprevalence values based on probability sampling and incidence in humans are lacking.
The RBT is a cheap and effective test [105], which could be distributed to primary, secondary and tertiary health centres at low cost, enabling health practitioners to screen patients presenting with non-specific symptoms compatible with brucellosis. In this way, additional brucellosis cases to those presenting to referral tertiary hospitals in the capital or health services abroad could be diagnosed and treated.
More bacteriological studies are required to confirm which livestock species and their respective value chains pose a public health risk, as well as the degree of risk associated with specific host species and human habits related to their management and consumption of their products. Such information would be invaluable to target animal reservoir species, practices, operators in the value chain and marketing circuits associated with a high risk of transmission.
Surveillance of human incidence should be a priority for countries such as Morocco where epidemiological data is scarce, as human disease is the best indicator of animal disease. Identifying 'where' the human cases are coming from and which animal host species are implicated in transmission can help target control to high-risk livestock systems, which may appeal to policy-makers. In a way, this is what is already being done in Morocco, with control now specifically targeting the intensive dairy farms where brucellosis prevails. Knowledge of trends in human incidence is also important as a proxy measure of the efficiency of control interventions targeting the animal reservoir.
Footnotes
1
The surveys cannot be directly compared due to differences in sampling methodology but data do show a geographic expansion of brucellosis. Most individual prevalence values are fairly consistent across provinces between the two surveys, as is the overall herd prevalence (4.6 % in 1970s compared to 4.9 % in 1980s) (Table S3). The apparent increase in Khemisset (previously a low prevalence area) is likely an artefact due to differences in sample size (800 cattle sampled in 1980s; 450 in 1970s).
2
Controlled experiments have shown RB51 efficiency to be inferior to S19 [134] and RB51 interferes in ELISA and other solid phase assays and so does not necessarily solve the interference of vaccination depending on the serological test used for monitoring. Other drawbacks include the fact that there are no internationally accepted criteria for quality control of RB51; the high cost of RB51 as compared to S19; the fact that no country has eradicated brucellosis using RB51 (except the 'Azores', an island) [135]; and the fact that RB51 can cause human infections which are rifampin-resistant.
3
Yahyaoui [54] screened sera in parallel with the standard RBT (sRBT) and modified RBT (mRBT) and found the seropositivity to be much higher with the latter (1.8 and 10.5 % individual seroprevalence for the rainfed and irrigated zones respectively), showing almost a 10 fold increase. Parallel screening of mRBT positive sera with a panel of other serological tests (sRBT, c-ELISA, DGD-NH-double gel diffusion with native hapten-, CFT) suggested that the modified protocol may be 'oversensitive' to the detriment of specificity for screening of cattle sera (Ducrotoy, personal data). Further studies with panels of reference positive (from bacteriological positive animals) and reference negative (from animals of Brucella-free areas) are required to investigate the performance of mRBT in cattle further.
4
Transhumance from this zone to the middle Atlas takes place suggesting that the role of transhumance in spreading disease is of less importance [77].
5
It is now recognised that souring of milk does not destroy brucellae as they are preserved in the milk fat. Lactic acid has an inhibitory effect on pathogenic bacteria but this cannot be depended upon to provide a safe milk product.
Abbreviations
ANOC:

Association Nationale Ovine et Caprine
CFT:

complement fixation test
COPAG:

Cooperative Agricole
FAO:

Food and Agriculture Organization of the United Nations
GDP:

gross domestic product
iELISA:

indirect ELISA
mRBT:

modified protocol of rose Bengal test
MRT:

milk ring test
ONSSA:

Office National de Securite Sanitaire des produits Alimentaires
RBT:

rose Bengal test
SAT:

serum agglutination test
UP:

unite pepiniere or nursery farm
Declarations
Acknowledgements
This research has received funding from the European Union's Seventh Framework Program (FP7/2007–2013) under grant agreement n° 221948, ICONZ (Integrated control of Neglected Zoonoses). The contents of this publication are the sole responsibility of the authors and do not necessarily reflect the views of the European Commission. Special thanks to Ian Maudlin for his thorough edit of the review.
Open AccessThis article is distributed under the terms of the Creative Commons Attribution 4.0 International License (http://creativecommons.org/licenses/by/4.0/), which permits unrestricted use, distribution, and reproduction in any medium, provided you give appropriate credit to the original author(s) and the source, provide a link to the Creative Commons license, and indicate if changes were made. The Creative Commons Public Domain Dedication waiver (http://creativecommons.org/publicdomain/zero/1.0/) applies to the data made available in this article, unless otherwise stated.
Authors' Affiliations
(1)
Division of Infection and Pathway Medicine, School of Biomedical Sciences, College of Medicine and Veterinary Medicine, The University of Edinburgh, Chancellor's Building, Edinburgh, UK
(2)
Institut Agronomique et Veterinaire Hassan II, Rabat, Morocco
(3)
EU/OIE/FAO & National Reference Laboratory for Brucellosis, Animal Health Laboratory, Paris-Est, University/Anses, Maisons-Alfort, France
(4)
Avia-GIS, Zoersel, Belgium