Research Article

Open Access
Pigsties near dwellings as a potential risk factor for the prevalence of Japanese encephalitis virus in adult in Shanxi, China
Infectious Diseases of Poverty
2017
6:100
Received: 4 November 2016
Accepted: 28 April 2017
Published: 8 June 2017
Abstract
Background
The increasing trend of adult cases of Japanese encephalitis (JE) in China, particularly in northern China, has become an important public health issue. We conducted an epidemiological investigation in the south of Shanxi Province to examine the relationships between mosquitoes, Japanese encephalitis virus (JEV), and adult JE cases.
Methods
Mosquito specimens were collected from the courtyards of farmers' households and pig farms in Shanxi Province. Mosquitoes were pooled, homogenized, and centrifuged. Reverse transcription-polymerase chain reaction (RT-PCR) was used to detect mosquito-borne arbovirus genes in homogenates. Specimens positive for these genes were inoculated into the baby hamster kidney cell line (BHK-21) to isolate virus. Minimum infection rate was calculated and phylogenetic analyses were performed.
Results
A total of 7 943 mosquitoes belonging to six species in four genera were collected; Culex tritaeniorhynchus accounted for 73.08% (5 805/7 943), C. pipiens pallens for 24.75% (1 966/7 943), and the remaining 3% (104/ 7943) consisted of Anopheles sinensis, Aedes vexans, Ae. dorsalis, and Armigeres subalbatus. Sixteen pools were positive for JEV based on RT-PCR using JEV pre-membrane gene nested primers. Phylogenetic analyses showed that all JEVs belonged to genotype I; two pools were positive using Getah Virus (GETV) gene primers. In addition, one JEV strain (SXYC1523) was isolated from C. pipiens pallens specimens. These results indicate that the minimum infection rate of JEV in mosquito specimens collected from the courtyards of farmers' households with pigsties was 7.39/1 000; the rate for pig farms was 2.68/1 000; and the rate for farmers' courtyards without pigsties was zero.
Conclusions
The high-prevalence regions of adult JE investigated in this study are still the natural epidemic focus of JEV. Having pigsties near dwellings is a potential risk factor contributing to the prevalence of adult JE. To prevent the occurrence of local adult JE cases, a recommendation was raised that, besides continuing to implement the Expanded Program on Immunization for children, the government should urge local farmers to cease raising pigs in their own courtyards to reduce the probability of infection with JEV.
Keywords
Adult Japanese encephalitisEpidemic diseaseMosquito-borne arbovirusJapanese encephalitis virus
Multilingual abstracts
Please see Additional file 1 for translations of the abstract into the six official working languages of the United Nations.
Background
Japanese encephalitis (JE) is a central nervous system disease caused by Japanese encephalitis virus (JEV), which has severe symptoms and a fatality rate of 30%. About 35% of survivors have permanent neurological or psychiatric sequelae [1, 2]. JEV is transmitted by mosquitoes, among which Culex tritaeniorhynchus is the most important vector. Pigs and migratory birds are primary amplification hosts [1–3]. JE is mainly epidemic in developing countries in Asia such as China, India, Thailand, Vietnam, Myanmar, Laos, and Indonesia. It is also the most important form of viral encephalitis in these regions [3, 4]. JE mainly occurs in children up to 14 years old [1–4], but adult cases have been reported in recent years. In 2006, 66 cases of JE were reported with 22 deaths in Shanxi Province, China, among which only 1 patient was 4 years old and more than 86% were over 30 years old [5]. In recent years, the number of adult cases has exceeded pediatric cases in some endemic areas in India [6]. In addition, 129 cases were reported in South Korea during 2010–2015, among which patients older than 40 years accounted for 61.2% [7]. Therefore, the epidemic of adult JE in local regions has become a new public health issue.
China has the highest prevalence rates of JE, accounting for nearly 50% of the total number of cases reported around the world annually [4]. In 2008, China has included JE vaccination in the Expanded Program on Immunization (EPI), and children ≤15 years old in JE-endemic areas can be inoculated with JE vaccine at no cost; this has greatly reduced the incidence of JE in children [8–10]. However, the incidence of adult cases in some provinces of China is higher than the national average, and the increased proportion of cases in adults is much higher than that in children [10]. The increase in adult JE cases, particularly in patients over 40 years old, has gradually become the driving factor for the high national incidence of JE from 2004 to 2014 in China. Previous studies have shown that the number of JE cases in the ≤15 years old group decreased by 17% in 2013, while that in people >40 years old increased by 394.16% compared to 2012 [10]. There are six high-prevalence provinces for adult JE (Shanxi, Shandong, Henan, Hebei, Shaanxi, and Gansu), all of them located in north of the Yangtze River (30°N–35°N and 110°E–130°E). Spatial cluster analyses have suggested that the distribution of adult cases in the south of Shanxi Province have demonstrated spatial clusters in years with high JE prevalence rates. Thus, the high incidence of adult JE in the southern region of Shanxi Province has become a heavy burden on local public health [10].
A total of 253 JE cases were reported in Shanxi province from 2009 to 2014, among which adult JE cases (over 40 years old) accounted for 83% (210/253). The adult cases were mainly distributed in Linyi, Yongji, and Wanrong counties, accounting for 35.7% (75/210) of the total (Fig.
1
). Therefore, we conducted an investigation in these three counties to understand the relationships between local mosquito vectors, JEV, and local adult JE cases.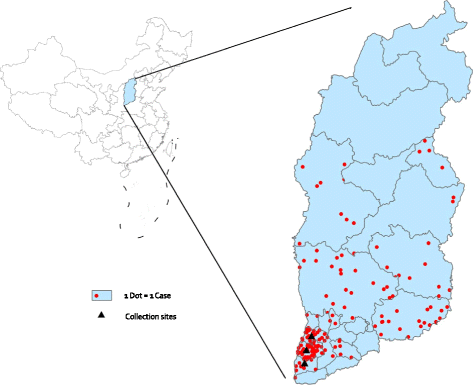 Discussion
JE is mainly endemic to Asia [1, 2, 4]. The scope of JE prevalence, however, has been gradually expanding in recent years, and JE has already spread to northwest Australia and Guam in the Pacific region, where it has become an emerging arboviral disease [17–19]. JEV is a mosquito-borne virus, and mosquitoes belonging to various genera, such as Culex, Anopheles, Armigeres, and Aedes, can all transmit it. Among these species, Culex, in particular C. tritaeniorhynchus, is the most important vector [19, 20]. The larvae of C. tritaeniorhynchus prefer to propagate in clean water, such as the water in rice fields, while the larvae of C. pipiens pallens generally propagate in sewage and the adults inhabit human dwellings. Therefore, it is easy for mosquitoes to propagate in rural areas with rich water resources, poor sanitation, and sewage [19, 20]. Pigs become infected with JEV via mosquito bites, and the virus is greatly amplified in pigs. This makes pigs, including both domestic and feral pigs, amplification hosts for local endemic JEV [19–21]. The infected pigs may also be hosts for further spread of JEV by mosquito bites. Therefore, a short distance between dwelling places and pigsties or the habitats of feral pigs will increase the probability of exposure to JEV. Populations living in environments with high mosquito density and surrounded by pigsties will be prone to JEV infection [22].
Our results suggest that the dominant mosquito specie in Linyi, Yongji, and Wanrong counties of Shanxi Province is still C. tritaeniorhynchus, and the endemic JEVs belong to genotype I, consistent with most parts of China and Asia [23]. The eight key amino acid residues determining the virulence of JEV isolates in this study have not changed compared to previous strains and local strains isolated in 2012, suggesting that local endemic JEV shows high neurovirulence [24]. These results suggest that the dominant mosquito species, genotypes, and virulence of JEV have not changed in Linyi, Yongji, and Wanrong, where the incidence of adult JE has been continuously high. Hence, these regions are still natural endemic foci of JEV with persist risk of infection.
In this study, we collected mosquito specimens from the courtyards of eight farmers' households and two pig farms. There were pigsties in the courtyards of three farmers' households but not in those of the other five households. Five to ten pigs were raised in the pigsties in the courtyards, and these pigsties were close to human houses. In addition, chickens, ducks, geese, and other domestic animals were also raised in the courtyards at the same time. Therefore, there was a great deal of stagnant water polluted by the feces of various animals in the living environment, which provided an appropriate environment for mosquitoes to propagate. Eight of thirteen pools of mosquito specimens collected from the courtyards of the above three farmers' households with pigsties were positive for JEV based on RT-PCR amplification of the C/PrM gene, and the MIR was 7.39/1 000, higher than that (2.68/1 000) of mosquitoes collected from pig farms (Table 5). For the other five courtyards of the farmers' households without pigsties, their pigs were all raised in pig farms far away from villages (over 2–5 km). Although large numbers of C. tritaeniorhynchus and C. pipiens pallens were present in the above five courtyards, JEV was not detected from these mosquitoes. Therefore, it is clear that whether the mosquitoes carried JEV was directly related to the location of pigsties in the courtyards (Table 5). The transmission cycle of JEV was blocked due to the lack of amplification hosts in the above five courtyards without pigsties. In contrast, the presence of pigs in the other three courtyards with pigsties completed the circle of JEV transmission as mosquito (virus)–pig–mosquito (virus), which made JEV more active and resulted in large numbers of mosquitoes carrying the virus. This concept is supported by another example from South Korea. During 2010–2015, South Korea reported 129 JE cases, some of which lived close to pigsties [7]. In conclusion, the presence of pigsties close to human dwellings provides an amplification host for JEV, which leads to JEV proliferation in local areas and increases the risk of human infection with JEV.
Conclusion
A JE vaccine was included in the EPI in 2008 in China, and children can be inoculated with it free of charge; it has greatly reduced the incidence of JE cases among children in China [9, 22]. Adults were not inoculated with this vaccine in childhood (long before the implementation of EPI) and therefore are more susceptible to JEV infection [10]. In addition, the habit of farmers to raise pigs in their own courtyards increases the risk of infection with JEV. Therefore, in regions with high prevalence rates of adult JE, such as Linyi, Yongji, and Wanrong, it is necessary to implement JE vaccination and strengthen the management of local animal husbandry. Pigs should be raised intensively in pig farms far from human dwellings with implementation of modern management. Farmers should cease the practice of raising pigs in their own courtyards to reduce the risk of infection with JEV and further decrease the incidence of adult JE.
Abbreviations
BHK-21:

Baby hamster kidney cell line
CPE:

Cytopathic effect
DMEM:

Dulbecco's Modified Eagle's Medium
EPI:

The national Expanded Program of Immunization
FBS:

Fetal bovine serum
GETV:

Getah virus
JE:

Japanese encephalitis
JEV:

Japanese encephalitis virus
MIR:

Minimum infection rate
MVE:

Murray Valley encephalitis virus.
NJ:

Neighbor-joining
ORF:

Open reading frame
RT-PCR:

Reverse transcription-polymerase chain reaction
Declarations
Acknowledgements
We thank the staff of the Shanxi Center for Disease Control and Prevention for assistance with collection of mosquito samples. We also thank the National Natural Science Foundation of China for financially supporting this research.
Funding
This work was supported by grants from National Natural Science Foundation of China (81290342 and 81501757), and Development Grant of State Key Laboratory of Infectious Disease Prevention and Control (2014SKLID103). The funders had no role in study design, data collection and analysis, decision to publish, or preparation of the manuscript.
Availability of data and materials
The sequence of JEV strains in this study has been deposited in GenBank. The JE data used in this study were obtained from the China Information System for Diseases Control and Prevention (available at http://www.phsciencedata.cn/Share/index.jsp).
Authors' contributions
XR, SF, PD contributed equally to this work. They collected the mosquitoes, did the experiments and wrote the manuscript. HW conceived and guided the experiment. XL and XG made the picture and performed the data analysis. YL, WL, YH and ZL did some experiments. JC collected the mosquitoes. GW and GL participated in the whole process and modified the manuscript. All authors read and approved the final manuscript.
Competing interests
The authors declare that they have no competing interests.
Consent for publication
Not applicable.
Ethics approval and consent to participate
The study did not use patient's medical records and all data were analyzed anonymously.
Open AccessThis article is distributed under the terms of the Creative Commons Attribution 4.0 International License (http://creativecommons.org/licenses/by/4.0/), which permits unrestricted use, distribution, and reproduction in any medium, provided you give appropriate credit to the original author(s) and the source, provide a link to the Creative Commons license, and indicate if changes were made. The Creative Commons Public Domain Dedication waiver (http://creativecommons.org/publicdomain/zero/1.0/) applies to the data made available in this article, unless otherwise stated.
Authors' Affiliations
(1)
Department of Immunology and Microbiology, Shanxi Medical University, Taiyuan, China
(2)
State Key Laboratory of Infectious Disease Prevention and Control, National Institute for Viral Disease Control and Prevention, Chinese Center for Disease Control and Prevention, Beijing, China
(3)
Collaborative Innovation Center for Diagnosis and Treatment of Infectious Diseases, Hangzhou, China
(4)
Shanxi Center for Disease Control and Prevention, Taiyuan, China